Congratulations to our 2019 Fellow Award Winners!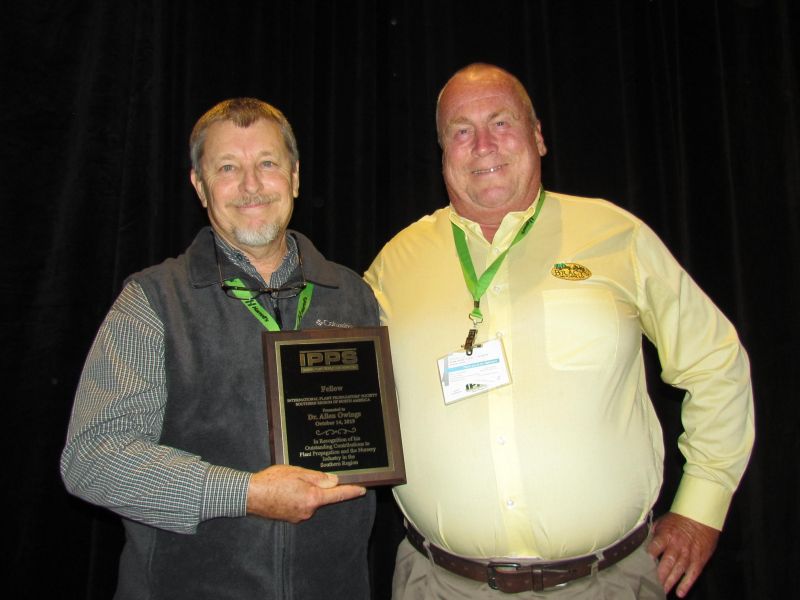 The Fellow Award is meant to honor and recognize outstanding individuals for their contributions to the nursery industry and to plant propagation in the southern region.
On behalf of the Fellow Committee, it is our pleasure to announce the 2019 IPPS Southern Region Fellows. Congratulations to our two recipients: Dr. Donna Fare and Dr. Allen Owings.
Dr. Donna Fare, after serving her term as a Southern Region Board Member, served as the 2009-10 IPPS SR President. She also served as our International Delegate and continued to work on special projects for International after her term there. Dr. Fare's career was with the USDA Agricultural Research Service, where she conducted numerous research projects to aid the ornamental horticulture industry. She has won the IPPS SR Sydney B. Meadows award, the SNA Slater Wight Memorial Award, and many others. She is always willing to share both her time and knowledge to better our industry.
Dr. Allen Owings, while working for the LSU Extension Service, served the ornamental horticulture industry with research, outreach, and teaching. But Dr. Owings' generosity of spirit and selflessness lead him to work with numerous horticulture related groups and give hours of support to the industry above and beyond the call of duty. His outgoing personality and willingness to work has made him friends too numerous to ever count.