Congratulations to our 2018 Fellows Award winners!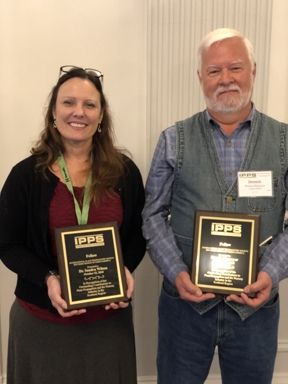 The Fellow Award is meant to honor and recognize outstanding individuals for their contributions to the nursery industry and to plant propagation in the southern region
On behalf of the Fellow Committee, including Blake Jones, Gene Blyth, Scott Langlois and second VP Brie Arthur it is our pleasure to announce the 2018 IPPS Southern Region Fellows. Congratulations to our two recipients: Dr Sandy Wilson and Mr. Dennis Niemeyer.
Dr. Sandy Wilson of the University of Florida is one of the three current co-authors of Hartmann and Kester's Plant Propagation – Principles & Practices (9th ed., 2018). She is very involved with the nursery industry has been recognized nationally for her teaching excellence by ASHS and other national organizations. She developed a superb on-line, distance education course in plant propagation that is used state-wide in the University of Florida system, which is the model of digital, interactive education. Dr. Wilson has served on the IPPS SR board and is an active member bringing students to meetings, mentoring, participating in the development of the new Student Membership program and annually judges in the Charlie Parkerson Student Research Award program. As a horticulture professional, wife and mother Dr. Sandy Wilson is a role model for the next generation and all of the IPPS membership.
Mr. Dennis Niemeyer has been an active member of IPPS SR since 1981 and has worked for more than 40 years in the ornamental horticulture industry.With 20 years of experience at Bayer he specialized in the realm of turf and ornamental chemistry improvements. As owner of Wee Do Nursery, renowned across the US and beyond he propagated rare and unusual plants including many natives. Most recently he has devoted nearly 20 years to Carlton Plants, working with growers across the southeast to access the highest quality inventory in the country. Dennis is an active contributor of IPPS and offers meaningful mentorship to young attendees. He encourages his clients to participate and is a well respected ambassador of IPPS SR. Dennis in countless organizations including the NC Green Industry Council. Dennis has worked advocating regulators in the local, state and national arenas since the early 1980's and has sat on multiple boards of government, plant organizations, and conservation groups.He continues to promote and educate for the use of native plants and conservation as he has for his entire career. As a nursery industry leader, husband, father and grandfather Mr. Dennis Niemeyer is an exceptional member well deserving of the fellow distinction.