Overview
Open to IPPS-Southern Region Members 35 years old or younger or SR members new to the industry. One of the pre-requisites is that applicants give a 20-minute presentation at the European Region Annual Meeting during the meeting and submit a paper for the European Region IPPS proceedings. This program should relate to your experience in plant production. Additionally, you will give a 20-minute presentation and submit a corresponding paper at the Southern Region Annual Meeting the following year, showcasing your experience as the Exchange Delegate.
2023 Exchange Program Details
Arrive in Hamburg, Germany (Airport code HAM) Saturday 7 October 2023
Travel with host to European Region Meeting in Denmark 11-13 October
Depart from Copenhagen (date to be established)
The 2023 Application is below. Applications are due June 1, 2023.

Remarks from 2022 Exchange Program representative Erika Ramos: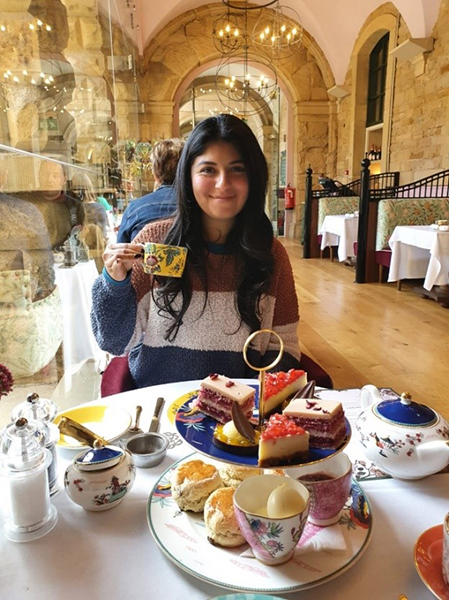 Being chosen as the 2022 IPPS international exchange representative has been one of the most rewarding experiences of my life. It gave the me opportunity to meet some wonderful people and visit some amazing places. I learned a lot by seeing the difference ways that some things are done across the industry. My trip started in Chichester here I was hosted by Tim. I was only there for two days but we visited Boshman Channel where we had some incredible views. In the Chichester area we visited Hills Nursery, and Walberton Nursery where I saw some great facilities with the organizational flow being the key takeaway. On day three I got on a train north to Sheffield where I was hosted by Vicky. Being my first time on a train, I was a little nervous but the beauty of the countryside eased the nerves and made it feel like the ride was too short. The two days that I was with Vicky we visited Chatsworth House and Osberton Nurseries where she works. Chatsworth was beautiful and it had one of the largest gardens I've had the pleasure of walking. It was a sunny day and the fall colors were in full display; we couldn't have chosen a better day to be there. After Osberton, I was headed southbound to begin my two day road trip from England to Germany with my next host, Richard and a couple of his colleagues.
Our first stop during our road trip was Solitair in Belgium which had some of the most luxurious trees I have ever seen. Second we stopped at M.van den Oever Nursery in the Netherlands where they implemented very efficient equipment in their day to day operations, but more specifically, in their shipping area. Our last stop on the drive up was Heini Nursery in Germany. Upon arriving at Bad Zwischenahn where the conference took place, it was exciting getting to meet everyone and was pleasantly surprised to see the diversity of other plant enthusiasts from around Europe. Fokko and the six packers were very welcoming and they made me feel comfortable in the new environment. The conference started out with a bang and we had some intriguing presentations addressing many of the current issues in the industry. Every talk was very informative and I learned a lot. Our first tour was at Renke zur Mühlen which grew a good assortment of plants and had a very interesting propagation facility. Zu Jeddeloh Pflanzen had the best shipping dock I have ever stepped in. Bruns Pflsnzen had some amazing projects in progress for some big companies. Jens Meyer Jungpflanzen had incredibly efficient equipment in their propagation department, and some practices I had never seen before. At Klasmann K Deilmann we got to see how peat is mixed and bagged. With there being a shortage of peat at the time, it was interesting to see the process. After the conference we made our way back to England but we stopped at a few more places on the way. Rötjes Young Pants had a state of the art propagation facility that was spotless and well organized. Euro Tree had a great team and amazing plants. We finished off at Richards workplace, Provender Nurseries which had a wide selection of trees and other plants for their customers. After the conference I spent some time in Sevenoaks and went to Ightham Mote, where we saw some beautiful architecture and views. Right before heading home I spent a few days in London and visited the National Gallery, went to see Buckingham and Kensington Palace and attended a show at the theater.
Overall it was an amazing experience, I am extremely thankful to my hosts, Tim, Vicky and Richard for giving me so much of their time. I am so thankful that I was chosen to attend IPPS in Germany. This trip has allowed me to meet some really great people, visit new places, try new delicious foods, and experience horticulture practices in new ways. I highly encourage others to do the same if ever given the opportunity.




Download Document