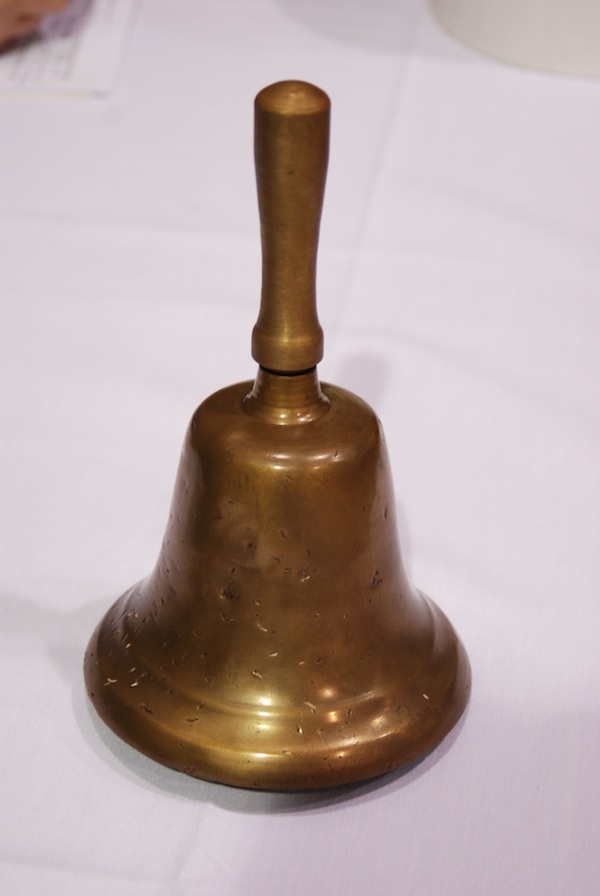 Annual Business Meeting
October 1, 2002
Hunt Valley Maryland
I have noted that our program chairman has been using a cowbell to notify our members to assemble in the meeting hall. The original Plant Propagators' society used to have a real brass bell used for this purpose.
Thirty-nine years ago, my spouse Phyllis found an old brass bell in the well house of one of the Ozark Nurseries farm dwellings where we lived at the time. As some of you know, this nursery was founded by my grandfather and operated by my family.
The bell was very old at that time and very beat up (it had several dings in it) and it had no handle. Recently Phyllis and I decided that with a little work, it would be suitable to present to the IPPS-SRNA for our program chairman to use.
An old friend of mine from Tahlequah, Oklahoma, Louis Trapp, owns a machine shop and he very kindly made a nice brass handle for the bell. My good friend Nick Hand also assisted us in getting this done. Phyllis and I then had the bell polished and inscribed to present to the Society in memory of J. Edward Davis, Sr., my father, and Ben F. Davis, III, our son. My father joined the Plant Propagators' Society in 1956, I believe, and was a member of it and the subsequent Eastern Region until he semi-retired. Our son, Ben III, was, as many of you know, a member of the Southern Region until his untimely death in 1997.
I would like to read the inscription of the bell and without further ado, present it to our current program chairman, Stewart Chandler.
Sincerely,
Ben Davis, II