Early-Career Professional Intl. Exchange Program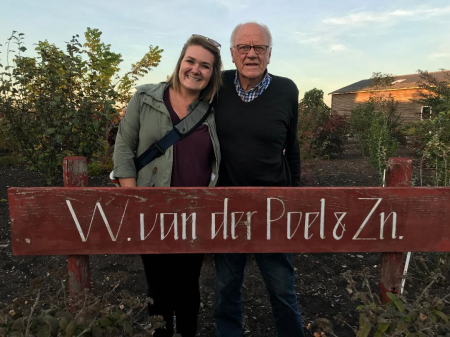 Overview
Open to IPPS-Southern Region Members 35 years old or younger or SR members new to the industry.
Details
TBD
Remarks from 2018 Exchange Program candidate Lindsay Day
Even a month after my trip, my mind is still reeling and trying to process all the spectacular experiences I had while traveling as the IPPS Southern Region exchange candidate. My trip took me all over the UK, Belgium, and Holland, and taught me so many things. I started my adventure with a brief stopover in Dublin, Ireland to see an old friend you may recognize as the 2014 European exchange candidate, Colm O'Driscoll. From there I made my way to the UK where I met up with another familiar face, Sophie Lewis who joined us in Dallas last year. Together, we visited greenhouse growing operations, explored extravagant garden centers, had tea with a cut flower producer in an authentic English walled garden, wandered through an old Tudor town, and even got to learn the ins and outs of chip budding by the master himself, Nick Dunn. After Sophie's gracious hosting, I was welcomed by Tim Lawrence-Owens and his wife Annette to their wonderful home on the southern coast of England. With them I got to learn more about nursery production and plant sales and marketing in Europe, hid from the rain in the colorful greenhouses of West Dean gardens, and enjoyed an evening pint in the shadow of a castle. From there Tim and I met Richard McKenna at the Royal Horticulture Society's Wisley Gardens outside of London, where I would leave with Richard to enjoy another day in the UK before heading to The Netherlands for the IPPS conference. On our way to the conference, we drove the car onto a train that took us under the channel and onto France, Belgium and Holland! We stopped at several nurseries along the way including the nursery of Willem van der Poel who was as enthusiastic a plantsman as any! The following day began the 3 day IPPPs conference where I met more enthusiastic horticulturist from all over Europe. As a group we learned how to make green tea and grow tea camellias (Judson would be so proud), got to see the impressive Florensis operation with all its automation, and see many other innovative growing operations. This trip taught me so much about the industry and innovative ways to overcome challenges.
I couldn't be more grateful to IPPS SR for allowing me to represent them, and am eternally grateful to all my amazing hosts and friends I made along the way. This trip was one of a lifetime and I can't wait to share more at the Southern Region conference in 2019. Thank you to IPPS for making trips like this a possibility for me and other young professionals!